Hotel Mapping is a process of curating hotel content data such as hotel addresses, hotel policies, geolocations, zip codes, and general descriptions. Hotel Mapping tools curate this data coming from different sources by merging property IDs and creating one unified ID to avoid duplicate and inconsistent listings.     
Due to the enormity of the hospitality distribution market, hotel data duplication becomes inevitable. Duplication happens when Online Travel Agencies source hotel data from multiple channels like bed banks, global distribution systems, channel managers, and other travel businesses.     
Usually, a hotel mapping tool curates the following details:   
Hotel Address    
Hotel Contact Information    
Zip Code   
Geo-Location Code   
Hotel Description    
Hotel Policies, etc.    
The hotel mapping tools allow you to gain control over the information mentioned above, improve the overall quality of the content and help you present the best-unified data on your website and ultimately win more customers.    
Here in this piece, we'll look at how major hotel mapping service providers work and compare their offerings in greater detail.    
Top Hotel Mapping Tools in 2023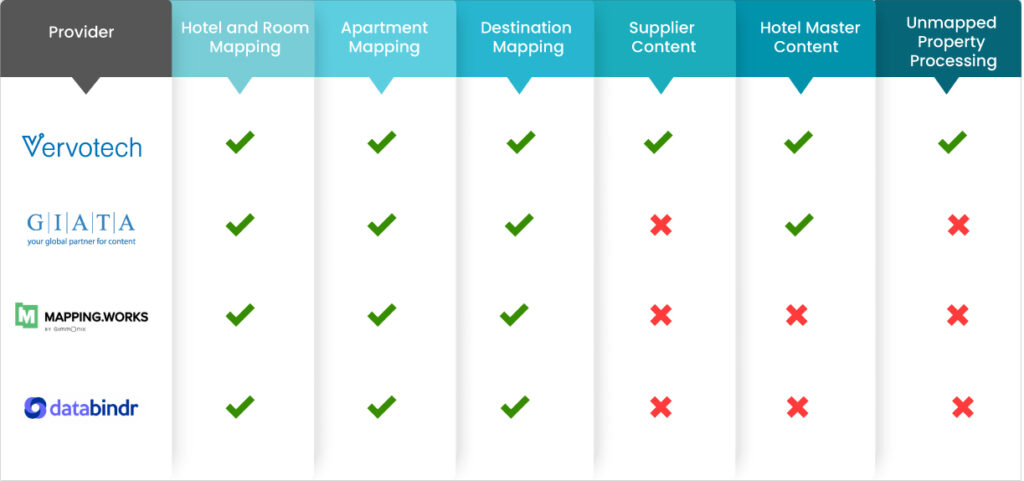 The market for hotel mapping service providers is now increasing. Yet the players, which have proven hotel and room mapping solutions, still hold the majority of the market share.    
Here we look at top hotel mapping tools in the market today and comparatively understand their offerings and differentiation.    
Vervotech: Fastest AI/ML-Driven Hotel Mapping Tool 
Vervotech is an award-winning technology company that provides the fastest AI/ML-driven mapping services to OTAs, corporate travel agencies, suppliers, bed banks, and other large travel agencies.    
As a technology company, Vervotech managed to position itself as a robust customer-centric organization, offers 24*7 customer support and technical assistance to its clients. Currently, it has three mapping products in the market, hotel mapping, room mapping, and hotel curated content.      
To map specific data, you need distinct solutions. Vervotech organizes travel data through its three products, as mentioned above. Let's take a detailed look at its solutions.   
Hotel Mapping  
Vervotech's hotel mapping tool leverages AI and ML to uniquely map hotel data with tremendous 99.999% accuracy. Their algorithm is entirely agnostic to the source of hotel content data. With the help of the world's top 600+ suppliers, they provide the best-opinionated content to enhance the overall customer experience.  
Highlights of the product   
Extensive coverage of 98% with great accuracy of 99% eliminates losses accrued due to incorrect hotel listing.   
Greater data and distribution network visibility through a self-service portal; Customers can directly download highlights and critical insights of the content pipeline from the portal's dashboard.   
Real-time updates of supplier data on booking platforms 
Easy and automated content management through API integration, customers can also plug CSV files to map hotel data. 
24*7 customer support for queries and grievance redressal 
Room Mapping  
Vervotech's room mapping tool identifies room data via various parameters, including room type, view, room description, bed type, amenities, and hotel policies for a room. The multi-parameter identification eliminates all possibilities of duplicate listing of rooms on their clients' platform.  
Highlights of the product   
Room and rate level mapping with accurate information and zero duplication.   
Auto consolidation for room data – Vervotech's AI-based room mapping tool auto consolidates room data if there's any data point missing from the supplier's side; ensures authentic listing of every room on a platform.   
Room mapping API integration allows real-time updates of suppliers' room data and their mapped content.   
Dedicated customer portal to keep track of content pipeline and data distribution 
 Hotel Curated Content  
Vervotech leverages its wide network of the world's top 600+ suppliers and advanced AI-ML-based mapping technology to offer Hotel Curated Content. The product optimizes a large supplier database to provide users with the most credible and accurate hotel information.   
Highlights of the product  
Unified Multilingual Content   
Accurate Hotel Name, Address   
Accurate Hotel Star Rating   
Classification of Property Type  
Geocodes matching Property Names  
Detailed Hotel Images   
Contact Information   
Static Room Information   
GIATA: Automated Mapping with Large Database    
GIATA is a hotel mapping service provider that claims to have the world's most extensive data with about a million proprieties in its catalog.  
Most of GIATA's clients are online travel agencies or large hotel chains. The company maps properties by creating a universal property code called GIATA ID.   
GIATA maps about one-fourth of data manually and the rest through automation. They are using fuzzy logic and a grade-based machine learning approach to process data very effectively.   
GIATA Hotel ID provides you with the following property information:   
Location (addresses with coordinates)   
Hotel website   
Geocode   
GDS information  
Hotel rating   
Nearby Airports   
Affiliations   
Mapping.Works: Inventory Mapping with Decent Processing Time   
Mapping.Works is a product of Gimmonix, a travel technology company. The Mapping.Works is an automated hotel mapping solution that focuses on accuracy and processing time. Gimmonix claims they take only 24 hours to process hotel data.   
Mapping.Works caters to both suppliers and online travel agencies. The hotel mapping tool is available as API. Alternatively, users can also use its "drag and drop feature" to process hotel data manually.   
The Hotel Mapping API of Mapping.Works curates the following data:   
Zip Code  
Name  
Hotel Category  
Amenities   
Hotel Policy   
Address   
DataBindR: Cloud Mapping with Spell Check   
DataBindR is one of the cloud hotel mapping tools which uses machine learning processes for natural language processing. Their hotel mapping tool HotelMappR runs manually. Users need to upload their hotel catalog in CSV or Excel to get the mapped files. Once mapped, DataBindR's API can process the hotel data in the following form:   
Hotel Name  
Hotel Country ID  
Hotel Address  
Category   
Zip Code  
Longitude and Lattitude Dynamics   
Recommended: Top Five Travel Management Software Solutions
Hotel Mapping tools, in general, made delivery of an efficient hotel booking experience significantly faster. On top of that, regular updates from suppliers, error-free, and deduplication of hotel data increases bookings and revenue numbers of online travel businesses across the globe.   
About Vervotech:
Vervotech is a leading Hotel Mapping and Room Mapping API that leverages the power of AI and ML to quickly and accurately identify each property listing through the verification of multiple parameters. With an industry-best coverage of 98% and an accuracy of 99.999%, Vervotech is quickly becoming the mapping software of choice for all leading global companies operating in the travel and hospitality industry. To learn more about Vervotech and the ways it can enhance your business in the long run contact us: sales@vervotech.com