Raken uw klanten in de war doordat ze hetzelfde hotel meerdere keren zien staan, wat indirect uw business schaadt? Wel, u bent niet alleen. De reisbroederschap wordt geconfronteerd met een gemeenschappelijk probleem van inconsistente hotel listings en veel hotel aanbieders proberen dit te beheren en op te lossen. Omdat de markt van hoteldistributie zo groot en complex is, worden gegevens vaak niet goed weergegeven op de website. Dit is waar technologieën zoals hotel mapping van pas komt waar een hotel mapping tool wordt gebruikt om de klus te klaren.
Wat is Hotel Mapping?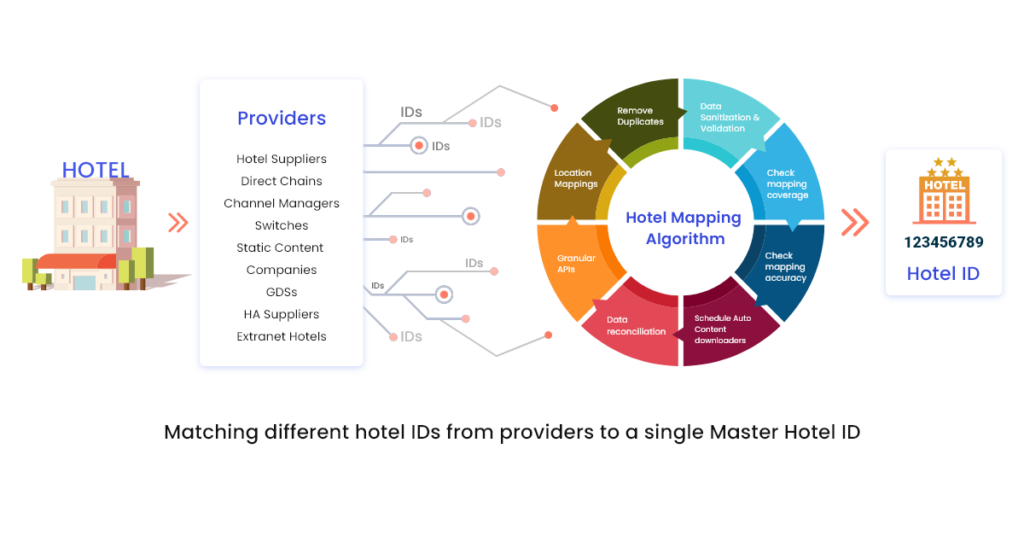 Online Travel Agent halen hun hotelgegevens uit verschillende kanalen zoals grotere online reisagenten, globale distributiesystemen en beddenbanken. Vaak zijn de verzamelde gegevens inconsistent met een heleboel dubbele hotel listings. Dit gebeurt omdat elk kanaal heeft zijn set van hotel listings en vaak een ander kanaal heeft ook een soortgelijke set van gegevens met soortgelijke listings.
Wanneer OTA's al hun gegevens combineren, eindigen ze met dubbele inhoud en zien klanten dezelfde hotels meerdere malen op hun website, wat leidt tot verwarring. Dit is waar hotel mapping tool een grote rol speelt. Hotel Mapping is een methode om hoteleigenschappen uit verschillende bronnen op een georganiseerde manier samen te brengen om inconsistentie en duplicatie in hotels op een website te vermijden. Het helpt u om controle te nemen over het integratieproces door al uw hotels in kaart te brengen.
Hotel Mapping is an excellent solution that adapts to consumer needs. It can be done manually but that can be extremely time-consuming and complex. Most OTAs opt for automated means where a hotel mapping tool is used to get the job done with ease. This helps travel businesses to achieve a good customer journey from their users by aiming to prevent end-user from booking the wrong hotel.
Wat is Room Mapping?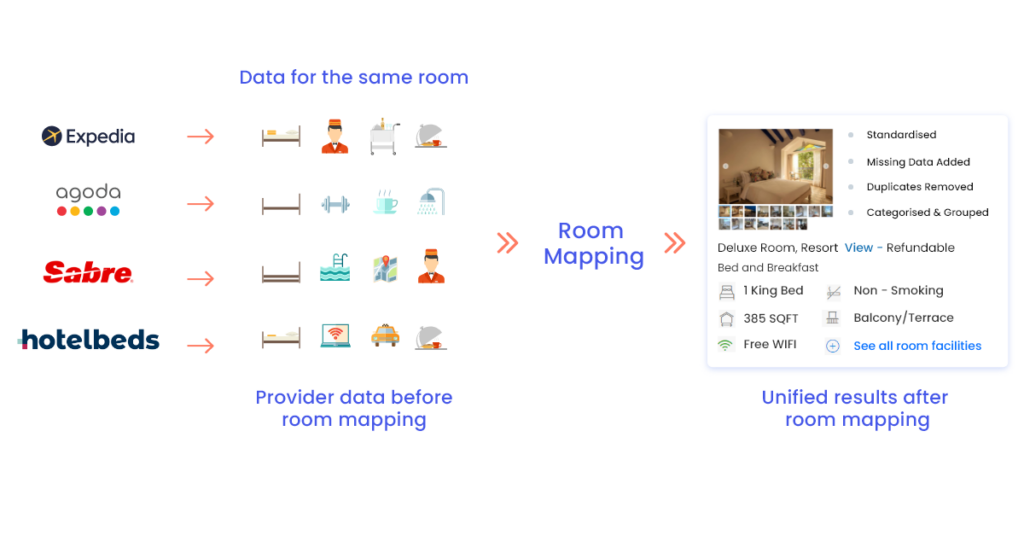 Online reisagenten worden met hetzelfde probleem geconfronteerd als het gaat om de kamers die op hun website worden vermeld. Elke dataleverancier geeft elke kamer van een hotel anders aan, maar in werkelijkheid wordt dezelfde kamer vermeld. Kamer duplicatie is een vervelend probleem aangezien elke leverancier andere standaarden heeft als het gaat om het aanbieden van kamer data. Room Mapping heeft als doel de klantervaring te verbeteren bij het vinden van de juiste kamer en optimaliseert de winstgevendheid voor het bedrijf.
Het in kaart brengen van kamers is een proces van het identificeren van gegevens op kamerniveau via meerdere parameters, het detecteren welke kamerlijsten hetzelfde zijn, en het verwijderen van dubbele resultaten. Het wordt uitgevoerd om kamers accuraat weer te geven terwijl ze gesorteerd worden door verschillende filters volgens de voorkeur van de gebruiker. Het is cruciaal om categorieën uniek te identificeren over meerdere aanbieders samen met kamertype, beschrijving, kamer ID, voorzieningen, bed type, beleid, en nog veel meer voor een betere klantervaring.
Best mapping solution in the market
Zoals we al zeiden, het handmatig oplossen van inconsistenties als het gaat om kamer en hotel mapping is immens moeilijk. Online reisbureaus eindigen met tonnen dubbele hotels en kamers op hun website, wat indirect leidt tot verwarde klanten. De beste oplossing voor dit probleem is de integratie van een hotel mapping tool of een hotel aggregator API. Deze tools helpen bij het consolideren en het verkrijgen van controle over hotel inhoud.
Recommended: Top Hotel Mapping Tools Leading The Market In 2022
Vervotech Mappings offers great Hotel Mapping and Room Mapping software. Its seamless easy-to-use interface and API help users in configuring supplier credentials, uploading content files, pinpointing duplicates, mapping hotel content, and more.
Over Vervotech Mappings:
Vervotech Mappings is een toonaangevende Hotel Mapping en Room Mapping API die gebruik maakt van de kracht van AI en ML om snel en nauwkeurig elke accommodatie vermelding te identificeren door de verificatie van meerdere parameters. Met een industrie-beste dekking van 98% en een nauwkeurigheid van 99,999%, Vervotech Mappings is snel uitgegroeid tot de mapping software van keuze voor alle toonaangevende wereldwijde bedrijven die actief zijn in de reis-en horeca-industrie. Voor meer informatie over Vervotech Mappings en de manieren waarop het uw bedrijf kan verbeteren op de lange termijn, neem contact met ons op: sales@vervotech.com